JUMPER Grab Bag By Buddha Pants®
|
GRAB BAG Jumpsuit By Buddha Pants®
PANTS: $95 VALUE! NOW ONLY $49.98!
PROMO CODE: GRABBAG
This one time offer! Get $45 OFF an adult jumpsuit + a FREE GIFT!
We are liquidating open package items.
Over 50+ pants available.
Pick your size then we surprise you with a print!
No returns or exchanges are allowed.
If you do not like the print or you buy the incorrect size you will NOT be able to exchange or send back.
This is a random picked item.
If you purchase more than one, there is a chance you could receive a duplicate pattern.
Please do not request certain prints to be included or excluded. All GRAB BAGS are picked at random.
If you already own pants there is a chance you could receive a duplicate pattern.
Please do not ask to return or exchange it.
>ALL ITEMS ARE FINAL SALE!
Available in over 17 prints + 7 solids
All pants pack into their left pocket
100% Cotton + Unisex
Available in 5 Adult sizes
Multifunctional with two pockets!
Each jumper comes with a beige cotton satchel! Buddha Pants are your travel ready companion, wearable with anything from sandals to heels or even barefoot. Great wrinkly or pressed, you can leave them hanging around your ankles or hike them up under your knees for a different look.
How or where to use them?
Take them traveling or camping and just tie them to your backpack! They take up no space!

Yoga class!

Take them to the beach and tie them to your beach bag, wear them after you swim or use them as a beach blanket or even a pillow!

Throw them in your car or hang them from your bike and always have a pair or comfy pants nearby.

Swing them over your shoulder and take them as a cushion to your yoga class!

Music festival or afternoon on the boat!

Have you used them in a different way? We are excited to hear! Send us message: Hello@buddhapants.com
Sizes may vary depending on where you wear them on your waist. All sizes & styles are unisex!
XX-Small (Suggested height 5'- 5'3")
Waist 26"-29" Women's 0-3
X-Small (Suggested height 5'3"- 5'7")
Waist: 28"-31" Women's: 3-5
Small (Suggested height 5'5 - 5'9")
Waist: 30"-33" Women's: 6-8
Medium (Suggested height 5'9 - 6')
Waist: 32"-35" Women's: 9-11
Large (Suggested height 6' +)
Waist: 35"-38" Women's 11-14
😍👖
✓
Over 63,000+ Happy customers!
✓
30 Day money back guarantee
✓
Tracking number for every order
✓
We make the most comfortable pants you'll ever own.
✓
Real people on our support team
+ Encrypted SSL security for 100% protection
🔒
Customer Reviews
Write a Review
Ask a Question
08/03/2020
Michele T.
United States
Love!!!!
I love my Buddha Pants jumper! At first I thought it might be on the small side (I ordered XS, and I'm 5'1", ~130lbs), but after wearing it the material all settled I to place and it turns out to be a great fit for me. I will be ordering more because it's the only thing I want to wear on these hot sumner days.
07/29/2020
Shira W.
United States
Comfort Zone
Im more than thrilled with my jumper...its soooo comfy and well made...wasnt sure how it would look because Im only 5ft and on the smaller side and its actually flattering...cant wait to get another...only thing there are too many colors to choose from
07/28/2020
Yolanda M.
United States
So so cute & comfy !
So adorable & very comfortable for these quarantine times. Also definitely think can dress it up with accessories too. First time ordering a jumper and the Buddha pants and I'm definitely a believer in the quality! Can't wait actually to do yoga in the pants too!! Shipping pretty quick too considering with the pandemic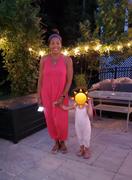 07/28/2020
Shelby w.
United States
Fun Surprise in the mail!!
I love receiving a surprise material/pattern in the mail. This is my second grab bag and I am not disappointed!!
AW
07/27/2020
Audrey W.
United States
My New Fave Items!
I love these jumpsuits! They are super comfy. I think Grab Bags are well worth the surprise of not knowing what you're going to receive because the price is unbeatable.
07/27/2020
Mandi G.
United States